COASTERS
Holds cocktail napkins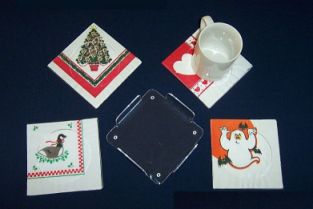 There are four coasters in a caddy. The coaster set is a popular accessory. A cocktail napkin slips between the two layers of acrylic, and a round opening in the top layer holds the beverage container. No moisture collects on the card table. Customers like to insert a seasonal napkin. These coasters were made available as a result of customers' requests.








ADDITIONAL ITEMS
Napkins
These cocktail napkins will fit nicely in the coaster set, above. Choose from an assortment of designs. When ordering, be sure to specify the letter of your design choice. (See below)



A - Good Wine/Times

B - Have A Ball

C - Cocktail Party

D - Good, Better, Best

F - Fancy Company

I - Includes 4 Nuts

K - Life's a Game

M - Save Water Drink Wine

O - Any Friend of Wine

R - Happy Camper
Congress Score Pads
The 50-sheet pads measure 3 1/2" x 5 1/2". The cover is white with gold Congress logo. Score pads can be ordered to match the Congress Playing Cards.


Congress Playing Cards
A set of 2 decks, the Standard and Jumbo Index Congress Playing Cards have the exclusive high quality CEL-U-TONE Finish.
5 different designs from which to choose. When ordering, be sure to specify the letter of your design choice. (See below)


| | | | |
| --- | --- | --- | --- |
| A - Marbled Heart/Spade | B - Butterflies | C - Cardinals | E -Tulips |
KEM Cards
A set of 2 decks. Cards have 100% Plastic-Cellulose Acetate finish. These cards can be brailled
Three color combinations from which to choose. When ordering, be sure to specify the letter of your color choice. (See below)


| | | |
| --- | --- | --- |
| A - Gold & Black | B - Green & Brown | C - Red & Blue |